Setting TSA Free – Parent Performance
Germany is quite the large and unique place. Everything from moral values to professional standards are centered around straightforward and meaningful outcomes. Communication, like most places, is key. And as time goes by, the need for better communication, coordination and collaboration increases.
Now, add children to that paradigm, and you might get a hint of what entities like TSA have to work with. Child care is a demanding profession, and in times like today, the need for digitization is only increasing. We saw an opportunity to help connect the dots with TSA in order to bring their child care services into the digital age with Parent.

About TSA
TSA Education and Social Affairs gGmbH is one of Germany's most distinguished nationwide providers of child and youth welfare services for a variety of age groups. Founded in Jena in 1993, the TSA's main goal is to share its approach to humanistic and inclusive educational and guiding principles with Germany's youth. Guaranteeing a better, more thoughtful social environment.

Calendar

Dashboard

Dashboard

Room Planning

Document Center

Food Plan with Apetito

Newsfeed & Media Sharing

Messaging & Communication
A Reputation to Uphold
The TSA has seen its fair share of ups and downs in recent years, same as any other organization in today's rapidly changing digital world. 28 years of operation have given the TSA enough experience and foresight to notice what areas need improvement, and how it can best be remedied.
""Before using Parent, we often asked ourselves how we could make everyday kindergarten life more transparent for parents, where we could better involve parents and show them what we do with the children during the day. This is now being implemented very, very well by the professionals at Parent and still a lot of feedback from the parents that it is very well received and very much appreciated." – Benjamin Gubsch
Benjamin is both a manager at Kindergarten Burgweg as well as a father. His field experience gives him an edge in identifying weaknesses in daily daycare operations. His is only one example among 21 that saw room for improvement. Room that Parent was glad to fill.
"Both the pedagogical staff and I have spent a lot of time keeping lists and documentation, so that we can now process everything bundled in the app and thus save a lot of time, which we can then ultimately use more on the children."
When TSA Met Parent
"Previously, it always was not synchronized, partly unstructured or the old-fashioned variant of the notice board or the email chains or the Whatsapp groups. And we wanted to put all that in one package and Parent had the best offer." Stephan Riese – Managing Director of TSA With so many moving parts and opportunities for error, Stephan Riese, Managing Director of the TSA, needed a solution that can, more than anything, connect the dots. TSA is a venerable and capable organization, but like any organization; making things easier is never a bad idea, especially when it comes to digitization.
Some key culprits stood out to us the most:
Ineffective internal communication
Unreliable external communication
Redundant tasks and excessive repetition
Task coordination & organization issues
What Parent Did for TSA
"The biggest challenges that we were able to solve with Parent were, of course, the synchronization of various processes. For example, the various areas of communicating with parents to provide them with information and within the teams." – Stephan Riese
In essence, the TSA suffered from the same problems that child care centers the world over are struggling to tackle: getting with the times. Parent has been in the business of enhancing child care management throughout its years of operation, and the TSA was a key milestone for all of us.

After enough meetings and conversations took place, we started implementing the systems that the TSA needed the most. This allowed us to make some lasting changes together.
Better Communication
"The feature of Parent that we are particularly excited about is of course the newsfeed, because that's the first feedback we got from parents." – Stephan Riese
Instead of relying on outdated and unreliable communication methods, Parent put TSA on the right track towards their digital transformation with communication that works. Using Parent's communication features, admins, staff and parents showed far more engagement and timely replies to whatever may pop up. No more key events falling through the cracks; Parent's Newsfeed, Dashboard and Messaging features made sure everyone stayed in one synchronized loop.
"Before using Parent, I didn't receive information here and there because I wasn't immediately on the email distribution list and, in the stress of everyday life, I forgot to look at the posting areas here and there. That information reaches me now directly, quickly and at short notice." – Benjamin Gubsch
Better Planning
"We work with a needs-oriented concept where children are allowed to move freely in the house. This means that you can see very well where the children are, what special needs the children have – these are functions that are particularly important to us." – Stephan Riese
For 21 child care centers to run at peak efficiency, we had to make sure that operations went smoothly and on schedule. Parent's rich ecosystem of child care management features put planning at the heart of everything. Users can easily keep track of staff, children, staff-to-child ratios, classes, nap times, observations and assessments. What's more, staff at the TSA were especially fond of Parent's Meal Plan features, with fresh and delicious meals properly prepared by our friends at Apetito.

"What's also very important to me is that I can look in every day to see what my child is getting to eat. The apetito menus are published there, so I can always check what they had today, tomorrow or yesterday." – Benjamin Gubsch
Better Support
"I believe we found good cooperation with Parent, and we had very good contact persons who supported us, especially in the process of introducing Parent in 21 daycare centers and providing training and in-depth education so that the app can be used well. This has worked very well." – Stephan Riese

Our purpose at the end of the day is to give carers more time to care, and in turn, give children more time to grow. We designed Parent with user-experience at the forefront, but we don't just stop at quality of life; we're there every step of the way. Throughout our rollout and application process with the TSA, we dedicated ourselves to providing answers to whatever questions may come, and to properly instruct users throughout 21 daycare centers on how to make the best use of Parent.

"My work has been facilitated most by the fact that I have a very, very quick overview of the daily routine, how many children are there, how many carers are there, so that the daily routine can be planned very, very quickly and also in difficult situations, so that this time can actually be spent with the child." – Benjamin Gubsch
TSA Today
"Parent brings progress and digitalization to the kindergarten and simplifies the administrative processes for employees. At the same time making things even more transparent for parents and guardians. It relieves kindergarten management and our employees in their daily work because it provides more time directly for the child and for pedagogical work." – Stephan Riese
What more can we say? It is our absolute pleasure to have had the opportunity to work with an entity as expansive and dedicated as the TSA. Seeing Parent in action always makes us proud, but watching the effect it has on staff, children and parents is something we can't put into words.

The TSA now enjoys better communication, transparency, and organization in everyday life, without having to fidget with outdated communication methods, repetitive grunt work and wasted resources. The staff are happy; the children are happy; the parents are happy; and we're always here to help.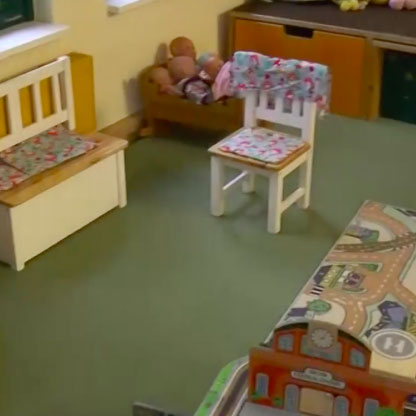 Ready to Set Your Child Care Free?
Looking to put your child care staff at ease and get the most out of every moment with the children? Look no further than Parent for all of your child care management needs.
Start your free 14-day Parent trial now!