Setting JINS Free
It's not an easy task running Dubai's leading nursery brand. A busy and glamorous city by design, Dubai life is all about the hustle of everyday life, but without sacrificing quality for speed.
Today's businesses need to switch things up. Especially with today's paperless revolution. That's what Jumeirah International Nurseries decided to do, and we were more than happy to set the carers of JINS free from repetition.

About JINS
Jumeirah International Nurseries, or JINS, is Dubai's most trusted and celebrated daycare brand. Since its inception in 1981, JINS has been putting Dubai's children on an early years journey unlike any other in the region. Their holistic and inspiring approach to education helps children aged 45 days to 4 years grow up into bright and healthy adults.
A Reputation to Uphold
With a need to provide a signature level of service to the booming daycare needs of the UAE's busiest city, operations at JINS have to be as smooth and simple as can be. Providing the kind of close care and nurturing in a uniquely stimulating environment has many moving factors that need to work well at all times. Staff need to know what to do, where to do it and when. Parents need to know how everything's going. Children have to be engaged in a stress free and rewarding environment.
Owners have to make sure all of the above happens. But with situations such as those of JINS; resources, and in turn focus, can get thin.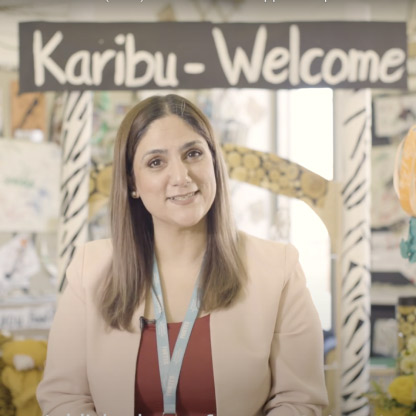 Newsfeed

Observations & Cohort Tracking

Check-in app

Dashboard

Surveys

Billing and Invoicing
When JINS met
Parent
"We've tried and looked for years, and it is through our research that we came across Parent."
Once we managed to make contact with Samina and everyone at JINS, we started assessing what their main areas of difficulty were. Like any child care in the last few years, digital transformation was a key factor for success, especially in today's world.
Some key culprits stood out to us the most
Ineffective internal and external communication
Difficulty in tracking child progress, status & nutrition
Redundant tasks and excessive paperwork
Too many systems for too little effect
"The main reason behind why we chose Parent, especially when they were introduced to us, was that they came across as an early years ecosystem where the main focus was to provide for us, support us and help us thrive in all our functionalities under one umbrella." Samina started noticing an immediate effect throughout all of JINS's operations, affecting everyone from the most fundamental educator all the way to parents wherever they may be. Parent eliminated a sizable amount of human error from everyday operations, letting carers put their full focus on the kids.
What Parent Did for JINS
"Because Parent truly has become a part of our life here at Jumeirah International Nursery, we are using it every single day. Classroom teachers, classroom assistants, managers, parents, mummies, daddies, nannies; everybody is using it."
Once Parent was set up properly at JINS with the help of our team, the flow of things started to change for the better. Parent is intuitively designed to be as friendly as can be, allowing users of any technical background to make the most of its many evolving features. We'd love to get into the details of it all, but we know how busy you might be. So we've rounded up the key areas that Parent enhanced at JINS.
Better Communication
"I think the most significant thing was our parents' engagement; it grew quite tremendously."
Using Parent's communication features, parents and teachers could instantly connect with each other, share feedback, concerns, media and consistent updates to help put everyone at ease. Parent's interactive newsfeed also added a level of engagement that was sorely lacking at JINS, allowing staff to have a social media-like approach to updates, observations and reports. Parents could also keep track of what was going on, and with instant messaging and optional parent-to-parent communications; things just kept getting better at JINS.
"Our teachers almost used it like a micro-blogging platform. They were able to consistently give updates and use the features of the application to enhance the skills of the children."
Better Planning
By using Parent, I am able to record the food that the children have eaten, their sleep times, and their nappy changes, giving me more quality time with parents in the afternoon during pick-up to speak to them about how their children's day has gone."
Parent's rich ecosystem of planning features allowed staff at JINS to more effectively keep track of what each and every child needed, all while keeping parents in the loop. This is in addition to staff scheduling, room planning and curriculum features that make the daycare process a seamless experience for everybody.
JINS's finances also saw a dramatic increase in simplicity. Using Parent's billing & invoicing features, payments and all relevant pain points became a thing of the past thanks to automated plans and reminders,
"I cannot imagine life without Parent. It saves us a lot of time for configurations and data setup all the way to event bookings and so many other processes."
Better Support
"The core team at Parent has been extremely professional, and I am amazed at the patience they have shown in dealing with all our customizations to make JINS a better place and provide communications to the parents."
You can have all the bells and whistles in your service, but if that service doesn't come with the support you deserve; it means nothing. Here at Parent, we put support and assistance at the forefront of everything we do, ensuring that JINS has access to our helpful resources, staff and post-sales service. Setup, demonstration and ongoing support were key for JINS's transition to the paperless age.
"The Parent Support Team made it much easier to work with our JINS team because they have their live chat which helps to immediately answer our questions. So our team is following up with the support team and they are able to reply, so they save more time to concentrate on important work."
JINS Today
We couldn't have said it better than Samina and the team at JINS. It's not easy by any means to keep up with today's business and child care demands, but that's why we're here.
Ever since JINS started using Parent, gradually getting into its many features, operations have been as smooth as ever. Staff actually have time to focus on seeing where the children are emotionally and developmentally, while letting Parent handle the grunt work. All with minimal input on the team's part.
"There's no more successful communication tool in the market, and we're delighted to be using it because we need our parents to know everything about their child each and every day."
Ready to Set Your Child Care Free?
Looking to put your child care staff at ease and get the most out of every moment with the children? Look no further than Parent for all of your child care management needs.
Start your free 14-day Parent trial now!