Back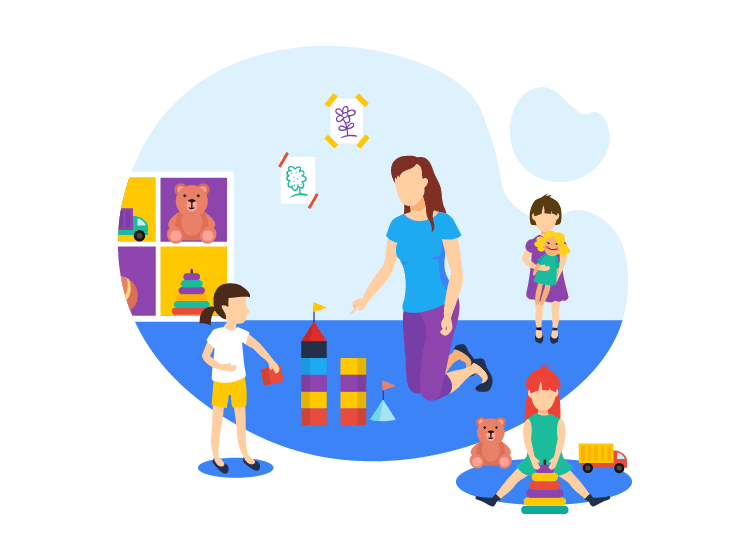 author

Mustafa

Published on

July 25, 2021

Reading time

12 minute read
21 Steps To Start A Daycare Business – The Ultimate Guide
Why Start a Daycare?
Opening a daycare can be intimidating, but it can also be incredibly rewarding. While there is no blueprint for success, many child care business owners find joy in the journey. So, whether it's your passion for kids or your desire to serve parents in your community, there are many valid reasons to open a daycare.
What's important is that you also need to consider your own unique reasons for wanting to open a daycare, as these reasons will then motivate you to follow through on your dream. Even though you will face obstacles along the way, the payoff of opening a daycare is certainly worth the struggles.
Advantages to Starting a Daycare
Starting your own daycare business can be advantageous on multiple levels. For one, you'll have the personal satisfaction of starting your own care center from scratch. Then, there's the joy of spending time with children and learning life-changing lessons along the way.
If you're still on the fence about starting your own daycare, consider these likely advantages:
Emotionally rewarding: Working with kids teaches you to be patient and enjoy the simple things in life. You'll also have the flexibility of having your own business versus being confined to a traditional day job.
Financial freedom: By opening a daycare, you're in control of your income rather than reliant on a typical paycheck. You can maximize your earning potential and make investments back into your own business.
Personal child care: If you have your own child, you can care for them while you're running your daycare. This will save you money and give your offspring opportunities to make friends with other kids.
Continued education: Opening a daycare can open the door to new opportunities in the field of child care. You may be presented with another job position or choose to pursue additional education of your own accord.
Extra money: Rather than stay home and care for your own children for free (assuming the original plan was to be a stay-at-home parent), why not make some extra money by caring for other children at the same time?
Tax deductions: As a business owner, you can write off certain expenses as business expenses, saving you money on your taxes. These expenses can include a portion of your housing payment (if you have an in-home daycare), your cell phone bill, your vehicle, child care supplies, and more.
These are just a few of the many advantages of starting your own daycare center. Now let's address some common questions you may have about being a daycare business owner.
How Much Does It Cost to Start a Daycare?
According to the small business website bizfluent.com, the average startup cost for a daycare center is $10,000 to $50,000. This can vary widely depending on whether you're opening a home-based daycare or leasing a separate facility for your care center.
If you don't have $10,000+ in your bank account, don't worry. There are many grants and loans available to child care businesses. In fact, some local businesses will offer financial incentives to support budding child care centers. Consider reaching out to your community for support.
Now, let's get to the good stuff: how to start your own daycare business from start to finish!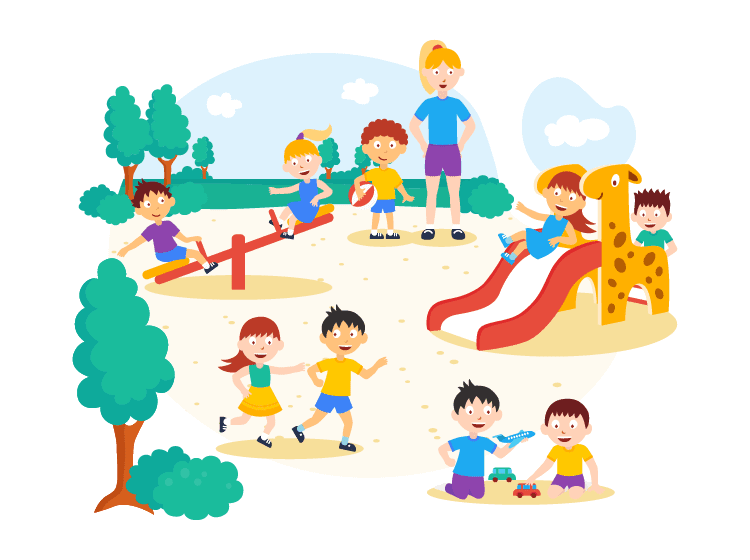 21 Steps to Starting a Daycare Center
Starting a small business, in general, is always a journey. While we've outlined a few steps to getting your business up and running, know that there is no one "right" way to achieve success. You'll learn many lessons along the way and are likely to pave your own path.
That said, here are 15 steps to starting your daycare center, even if you have zero experience.
1. Learn About Daycare Licensing Requirements
You might have started off as a babysitter or a nanny, but in order to start a full-on daycare business, you need to meet the proper licensing requirements in order to be legal. That way, your daycare will be legitimate and you won't run into any legal trouble accepting children into your care.
A good first step is to contact your state's Department of Children and Family Services (DCFS) to learn about their specific regulations for child care providers. Another option is your local area's child care licensing agency. You can usually find this information online.
To obtain a license to start a daycare center, you'll also need a current CPR certification, a clean driving record, and additional documents that prove your commitment to providing quality child care. Don't be afraid to ask your local agency questions to ensure you're satisfying all requirements.
2. Consider Taking Early Childhood Education Classes
While you don't need to have professional child care experience to start a daycare business, having some understanding of early childhood development is strongly encouraged. You'll be caring for young lives, so you need to know how to provide the right kind of support and care.
Getting a degree is early childhood education is a good place to start. You can typically find classes in person at your local community college or online. Through this degree, you'll gain a greater understanding of how children think and behave, and what they need in order to be properly cared for.
Beyond that, you'll have the skills to set your business apart from your competition. You'll be better prepared to offer the services parents are looking for and keep them coming back time and time again.
3. Create a Daycare Business Plan
Starting any type of small business helps to have a business plan. Having a business plan helps you set tangible goals for your business, organize your business structure, outline your services and so much more.
In your daycare business plan, you'll define your daycare's mission statement, operations, procedures, staffing, and budget. This business plan works to keep you on track and striving toward success.
Consider how you want your business to be organized for your plan. Will you be solo or hire staff? How will you secure funding? Will you offer services beyond child care (like tutoring)? For help in creating your business plan, check out this detailed guide from the U.S. Small Business Association.
4. Create financial goals
This is a must for anyone looking to open a small business. It's important to remember you're not being paid in hiccups and hugs. Outlining your financial goals will help you remain focused and keep your business on track.
"Create a budget and a business plan," Lindner says. She recommends relying on the expertise of friends whenever possible and at least downloading a free template to fill out what you can. She also suggests tacking an extra 20 to 30 percent on your budget as a buffer, just to be safe.
You need to know exactly where the money is coming from and going to ensure you're profitable. Consider these basic questions:
Do you plan to hire an employee?
Do you need to expand a room in your home?
Are you renting space in a building?
Do you need to purchase bedding? Additional toys? Safety equipment?
Also, don't underestimate the cost of licensing, inspection, and zoning. The buffer you baked into your budget will come in handy when you discover you need to put up a gate or add a fire extinguisher. Getting a grip on the finances early on is key to understanding the ebb and flow of your business.
"There isn't a part of the business that I don't understand," Mcgregor says. "That is crucial to running any business."
5. Research tax credits
If you're planning on opening an in-home daycare, you may be able to claim a tax deduction on spaces used for businesses purposes. This can be the case even if the space doubles as your family room when your tiny clients go home for the night. This is a simple yet wonderful way to help cut costs.
6. Find a Location for Your Daycare
If you plan on running your daycare out of your home, this step should be pretty straightforward. If not, you'll need to find a location for your child care facility.
Many recreational centers, churches, local businesses, and even schools have space available to host a daycare, typically for a monthly fee. Search online, in your local newspaper, and within your network to find options in your area.
Once you've found a good fit, you need to check your city's zoning laws and licensing guidelines to make sure your chosen location is compliant. That way you can avoid some legal headaches down the road.
Ideally, you'll need to find a location that's centrally located, easily accessible, and child-friendly. Consider what children and their parents will be looking for in a child care center. You might not find the perfect option, but you can make it work with a little TLC.
7. Get Insurance
Most daycare centers need several types of insurance in order to keep children (and their businesses) protected. These policies typically include liability coverage, property, workers' compensation, and business insurance.
Not sure what type of insurance you need? You can always check with your local child care provider licensing office for guidance.
8. Seek Out Grants and Funding
As we covered already, there are certain costs associated with starting a daycare. If you don't have the money you need to cover your initial startup costs, you'll need to get creative when it comes to acquiring funding.
Even if you start small there is always going to be start-up costs when opening a daycare. But, there are several grants available to help you compensate for those expenses. Some of these grants also provide additional education in areas related to child development. This is just another way to distinguish yourself from other childcare providers.
You might also consider taking out an SBA loan or doing community fundraising. Know that the goal is to use these funds as an investment that will yield profitable returns in your business.
9. Costs Associated with Starting a Daycare
There are several things you'll need to buy or lease in order to get your business up and running for day one. These expenses include but are not limited to:
Renting a daycare space
Indoor and outdoor play equipment
Toys
Art supplies
Cleaning supplies
Child care supplies (like diapers and wipes)
Business laptop
Licensing fees
Food (for snacks/meals)
Bottles, cups, plates, utensils, etc.
Car or reliable transportation (optional)
You might think of some additional items you'd like to have at your daycare. Over time, you can use the revenue coming in to help cover these expenses and invest in better equipment/supplies. It's OK to keep things simple and then scale your way up.
10. Prepare Your Daycare Center
Once you have a location secured and the proper materials and equipment in place, it's time to prepare your daycare center.
First, clean your facility and sanitize with an effective disinfectant. Then, take the needed steps to childproof your daycare according to the ages of the children you will be caring for. Follow this childproofing checklist for help.
Finally, set up play equipment and layout toys. You might decide to use storage boxes to keep everything organized. You can always rearrange your layout according to your needs.
Is your daycare ready for service? Give it another once-over and you're ready to open your doors for day one of business!
11. Draft up a Contract
As a small business owner, having a contract is always a good idea. The parents that come to your facility are essentially your clients, and you want to have a solid contract in place to protect yourself from any legal issues.
We recommend seeking out a trusted contract lawyer to draft up a contract according to your needs and unique business requirements. Your contract will then be used to outline your expectations for your clients and their children.
Here are some important questions to consider when creating your contract:
How do you expect to be paid?
How will you handle late payments?
What time should parents pick up their children?
Are there consequences for late pickup?
What services will you provide?
What is your policy when it comes to sick children?
Do you offer refunds? If so, under what conditions?
What happens if a child is injured at your facility?
Whether you seek help from an attorney or write the contract yourself, you should have a contract in place before accepting business. Once signed, you can then send professional daycare invoices to get paid by your clients.
12. Establish Policies and Procedures
Establish policies and procedures for the families that attend your daycare and your staff. These procedures may include an emergency plan, safety procedures, privacy protocols, and rules for your facility.
Having these procedures in place will help you keep the children safe and protect yourself from liability (in some instances). In establishing your policies, be sure to review your local child care licensing requirements to ensure compliance.
13. Hire Staff as Needed
When you're first getting started, you may just be a company of one, as you might want to save the cost of hiring unnecessary help. But over time, you may need to hire help to take care of the kids during the day. However, there are some qualities to look for when hiring educators for your daycare.
This is especially true if you find yourself running up against the required ratio of staff to children, as outlined in your local daycare licensing requirements. Be sure to review these to make sure you have enough staff for the number of children you plan on caring for.
Also, make sure all child care staff undergo criminal background checks and provide references to ensure the safety of the children. Make your hiring decisions carefully to keep your facility safe and maintain a stellar reputation.
14. Create a contract
Once you determine the details, write up a contract that clearly outlines what you will (and won't) provide and your expectations for your clients. Here are some important questions to get you started:
What time do parents need to pick up their children?
Are there consequences for being late?
What services will you provide and what items are parents responsible for? (e.g., you'll provide formula but they provide diapers.)
What is your policy for sick children?
How many days off will you take? Are those days paid?
How will you handle late payments?
You can find several online resources to help you write your own child care contracts. Alternatively, a childcare attorney can advise you on the elements of your contract. Whether you seek legal advice or write it yourself, your contract should be complete before seeking clients.
15. Distinguish yourself from the competition
"Just because kids need to be watched for seven hours a day, doesn't mean it's babysitting," Lindner says. "That mentality is bad for kids and providers. Offer more than just keeping them alive."
What do you think children in daycare need? What will set you apart from other childcare providers in your area? Do a little research to scan the competition and figure out how to meet the needs you see. For example, would it be advantageous to offer unusual hours for your daycare? Would an organic, vegan, or kosher menu give you an edge?
For Lindner, it all came down to curriculum. "I really wanted an educational environment and I couldn't find a place like that in my area. I decided to focus on STEM." Do your research and be sure that something — location, business hours, menu or services provided — sets you apart.
16. Get people in the door
Even though it may feel counter-intuitive, Lindner recommends giving a few months of free tuition to some parents you know. "No one wants their kid to be the first kid at a new daycare," she explains. "Get people in the door, encourage clients to spread the word, and thank people for every reference they give you."
McGregor has learned from her three centers that word of mouth from happy clients is the real key to success. If you've cared for children in the past, ask for testimonials from parents and post them online or in other marketing materials. Highlight your experiences and display your licenses. Do whatever you can to get those first clients through the door. Sacrificing some profit upfront is worth it to build a lucrative business.
17. Market Your Daycare
You have your daycare set up and open for business, now how do you get families in the door? As with any small business, you'll need to market yourself to attract potential clients.
There are many ways to market your daycare. One method is to create flyers and post them around your local community—at businesses, schools, and coffee shops. You can also run paid ads on Google or Facebook to draw in families from your local area.
To establish your daycare as a professional business, consider building a website that provides more information about your services. A basic website can cost anywhere from $10 for a WordPress template and set up, to $2,000 or more for a custom design.
With a website, you can then use search engine optimization (SEO) to attract organic traffic from Google. That way, when families search for a daycare near them, your business is likely to show up in the search results.
18. Promote Your Daycare on Social Media
Another effective marketing tool for daycare centers is social media. Platforms like Facebook, Instagram, and LinkedIn can be used to promote your business and draw in potential clients.
Create a business Facebook page to post more information about your daycare, collect client testimonials, and keep families up-to-date with events at your daycare. You can also post on Instagram and LinkedIn, with targeted hashtags, to attract families in your area.
As your business grows, you might decide to invest in paid marketing services. A digital marketing agency or consultant can help you increase your business's presence online, outrank your local competitors and attract new clients.
19. Provide Top-Quality Care
The success of your daycare depends on you providing top-quality care to your families. If the kids at your facility are properly cared for, and, even better, enjoy coming to your daycare, you're likely to attract more referral business.
Positive reviews can work wonders to attract new clients. Ask families to review your business on Facebook, Google, Yelp, and other review sites to improve your daycare's reputation in your community.
Always look for ways to improve your daycare. Ask families for feedback, invest in additional education and hire fantastic staff to make your daycare the obvious choice for families in your area.
20. Manage Your Business Finances
Many small businesses fail due to poor money management. If you want your business to succeed, you'll need at least a basic understanding of business accounting and how to manage your expenses.
Staying on top of your business finances is more than just tracking revenue in and expenses out. You'll need to plan for taxes—typically around 30% of your revenue, after expenses—and make informed decisions when it comes to how you're going to allocate your funds.
Professional daycare billing software can help you send invoices, track revenue, manage expenses, and more. It can even send reminders to parents for late-payments and accept credit card payments with ease.
The more you know, the easier it will be to make smart financial decisions. Stay on top of your business finances so your business is not only surviving but thriving.
21. Consider A Childcare Management Software
No doubts, It is efficient that you need a proper management system in your childcare center. These tools are used to support processes, operations, and IT. MIS tools (software) move data and manage information.
MIS produces data-driven reports that can help preschool, child care, and daycare centers make the right decisions at the right time. The concept includes what computers can do in this field, how people (teachers and other role-players) process information, and how best to make it accessible and up to date.
The earliest forms of management information software were usually spreadsheets, like Excel or the old Lotus 1-2-3, and many organizations still rely on only that. The environment has, unfortunately, become too complex to manage by spreadsheet only.
It (managing data) has become a science in its own right, with many categories and associated software.
In fact, it is our contention that to maximize the total value eco-system (within which the daycare operates), software within the early years' education center environment must deliver better management of child care processes, experiences, personnel, and relationships with parents and other end-users.
Such systems need to offer proactive, service-centric approaches that reflect, support, and improve the organizations' strategic objectives, brand, culture, and workplace productivity across the entire range of the Care Centre's activities.
Childcare Management Software (CCMS): Sometimes also called Preschool Communication Systems: There are many variants on this, ranging from pre-school systems which are optimized to link teachers, principals, administration staff, and parents together to enhance everyone's situational awareness regarding the progress of the child (like Parent App), to systems that monitor babies, and systems optimized for tracking the performance of school-going children right up to Grade 12.
References: